simple and pretty ways to wear a scarf
My love for scarves runs deep. Anyone that knows me personally, knows that I never leave the house without one. In the summer, people often wonder why my handbag is so damn full. Because there's a scarf stuffed in there, I tell them, you never know when the bus/restaurant/movie theater/so and so's apartment might be little too chilly for comfort. In these cases, my scarf turns into my blanket. I am not unlike Linus in this way.
Now that cooler temps have returned, I'm excited to start accessorizing (in a non-Peanuts character way) with my scarves. It's one of the most versatile, classic pieces a person will ever own. Which makes it a must-have in my book.
I've been feeling extra fashion-y this fall so I wanted to share a few of my favorite ways to style a scarf.
The Braid
Looks best on ombre or solid colors (it's difficult to see the braiding detail on heavily patterned scarves); long scarves.
Ideal for keeping the neck snug and warm or as a replacement for a necklace.
Fold your scarf in half so that the two ends meet.
Drape over neck.
Place the two-ended side in the loop and pull.
Take the loop and twist.
Place the two-ended side in the newly-formed loop and pull.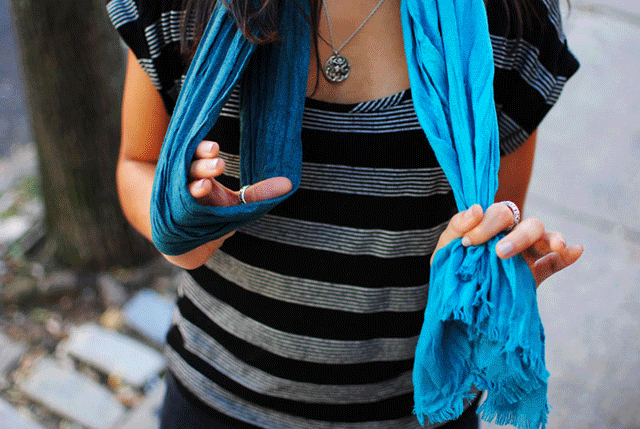 The John Wayne (ish)
Looks best on silky/satiny scarves or thinner cotton fabrics with tassles at the ends.
Ideal for covering an exposed chest from the brisk air (or a ketchup stain on the front of your tee!)
Wrap a loop (or two, depending on the length) around the neck, so that both ends are draped over the chest.
Tuck one end into the loop around the neck.
Take the remaining end and place only one corner into the opposite side of the neck loop.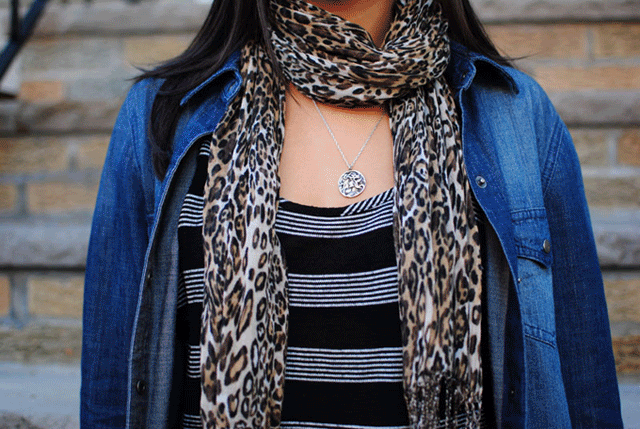 Best for thinner, slouchy fabrics.
Ideal for when you're feeling extra girly.
Drape over neck so that two ends are draped over the chest.
Tie a bow as if you were tying your shoe (simple!).
Make Your Own Infinity
Best on long scarves with a lot of fabric.
Tie the two ends.
Turn so that the knot is facing the back.
Twist and loop (as many times as necessary).
Wear wrapped around the neck or over the head.
Top it off with a brooch.
Best for thicker scarves, so that the brooch does not weigh it down.
Ideal for when you're feeling extra fancy and fabulous.
-jillian m.
p.s. This popular video has been making the rounds lately. Check it out for more scarf ideas!